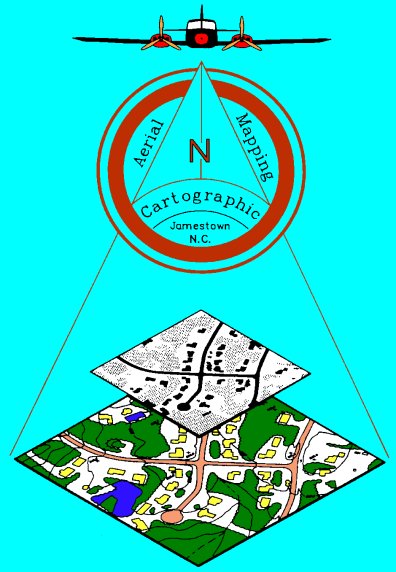 SERVICES
Aerial Photography - Color, B/W, Multispectral, including infrared
Analytical Triangulation (FAAT)
Digital Planimetric and Topographic Maps
Digital Orthophotos -DTM & DEM
Land Development
Landfills
Golf Courses
County & City Base Maps
GIS & 911 Base Maps
Volumetric Surveys
Municipal Mapping
Mine Mapping
Cross-Section Data
Utility Mapping
Industrial Mapping
Institution Mapping
Data Translation
Control Surveys (GPS)
---
Cartographic Aerial Mapping Inc. is located in the heart of North Carolina in the Triad Area. Founded in 1988, we have established ourselves as one of the premier digital Photogrammetric companies. Our clients will verify the quality and timeliness of our work as we have grown together over the years. With the recent addition of an Operations Manager and an Office Manager, we are confident that we are now able to expand our services and offer them to a wider client base without compromising quality and our personal relationship.
Conveniently located in the Triad area, our office in Jamestown is close to High Point, Greensboro, and Winston Salem. Charlotte, Raleigh, and other parts of North Carolina are a short drive away.
The president and founder of Cartographic Aerial Mapping Inc., is Hugo R. Campo. With over 30 years experience in the field of photogrammetry and related disciplines, Hugo is a Professional Land Surveyor (L-4080) and a Certified Photogrammetrist (ASPRS-R713).
Our modern equipment meets the needs of your contemporary mapping projects. Direct data collection in AutoCAD and VrOne systems.
For your projects requiring GPS control, our associates will assist with state of the art, top of the line equipment.
---
OUR MISSION
To form an integral part of your team and help meet the challenges of the 21st century.
We specialize in serving:
Engineers
Surveyors
Developers
County Governments
Municipalities
Foresters
City and Town Governments
---
We invite you to call or stop by and find out what we can do for you.
4917 Piedmont Parkway, Suite 105
Phone (336) 834-0350
Fax (336) 834-9350
email: mail@cartographicaerial.com